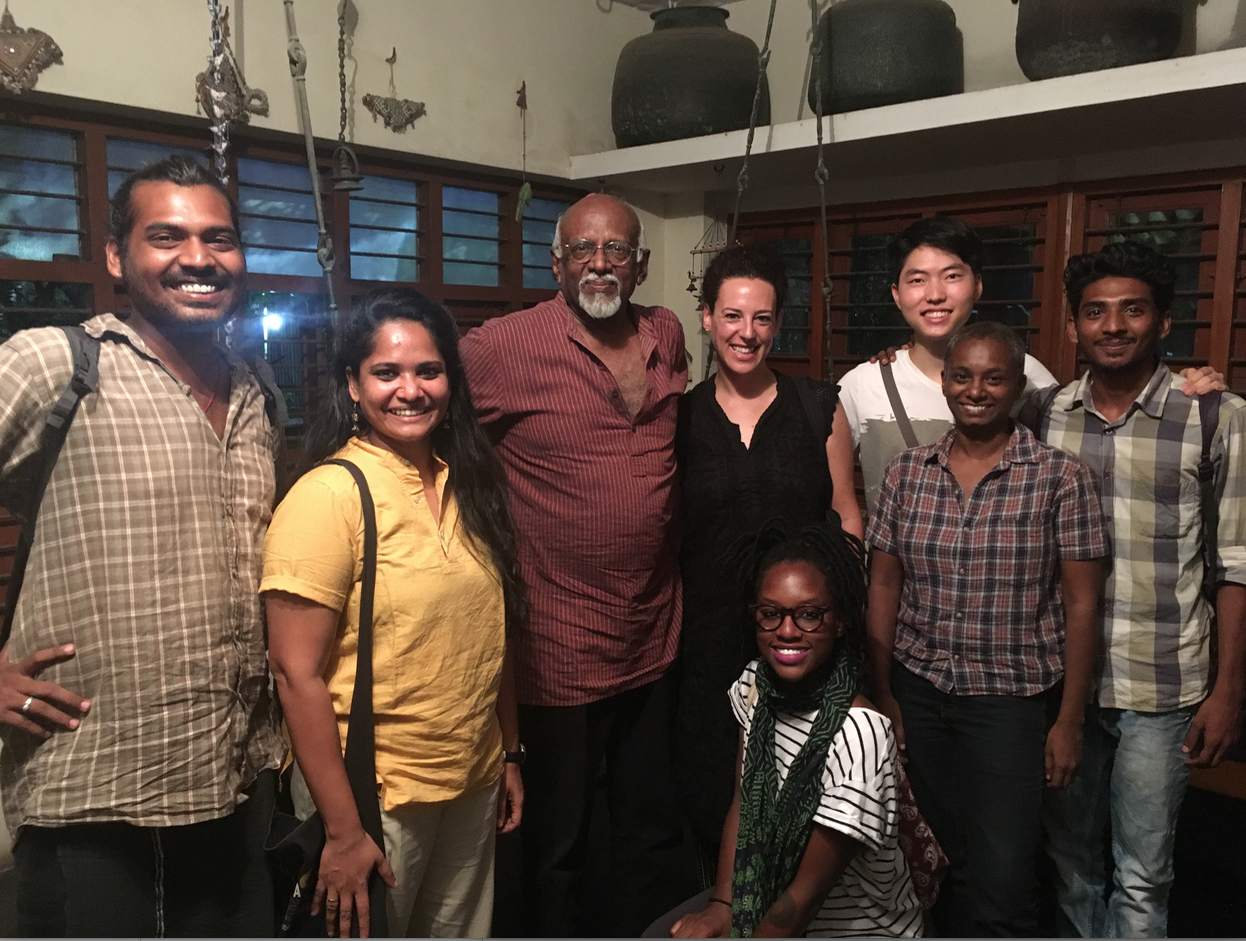 In summer 2017, the South Asia Center (SAC) and the South Asia Studies Department (SAST) launched the SAC Chennai Artist Residency which sent three students to India to work with local artists for eight weeks. With generous support from Penn Design and Penn Global, undergraduate English major Seung Hyun Chung joined Master of Fine Arts students Danièle Dennis and Laura Altman on this artistic adventure to South Asia. The program exposed all three students to India for the first time and offered a crash course in Indian history, culture and the burgeoning contemporary arts scene in Tamil Nadu. Through this residency program students were given the opportunity to develop research for future art projects focused on India. 
Students stayed with two local multidisciplinary contemporary artists, Krishnapriya C.P. and Narendran K., who acted as hosts and mentors throughout the program. Students were given the opportunity to meet important local players in South Indian contemporary art, such as Sadanand Menon, social and cultural critic and art historian, Benitha Perciyal, senior contemporary artist, A.S. Panneerselvan, journalist and Tamil art and literature historian, Madhushree Basu and Akila V., contemporary dancers, and Mangai, contemporary Tamil theater actor and professor.
Students were exposed to critical environments connected to Tamil identity and Indian society, like the cultural center spaces, the artist community and museum Cholamandal Artist Village and historical cultural sites of Kanchipuram and Mahabalipuram. They interacted with a tribal community in the Nilgiris reserve forest, met with actors from the Pondicherry contemporary theater space Indianostrum Theater and visited the folk theater school and performance troup at Kattaikuttu Sangam. All three worked with student mentors of the Government College of Fine Arts in Chennai. Student mentors included Kamesh, Sindhuja, Pon Raj, Thalamuthu and Kanal. These local art students helped Penn students navigate Tamil Nadu in search of their research interests, collaborated on art projects and gifted them with intimate cross-cultural encounters. 
Laura Altman's research focused on women's labor in the cotton manufactoring and exporting industry in Tirupur, Tamil Nadu and in the handloom silk weaving industry in Kanchipuram, Tamil Nadu. Danièle's photography project focused on capturing women from the Dalit communities Namakkal, Tamil Nadu, the home town of both student mentor Kamesh and Residency host, Narendren K. Seung Hyun Chung's research engaged Tamil playwriting and resulted in a solo-theatre piece exploring tourism and diasporic postcolonial identity.
This fall SAC and SAST are bringing Krishnapriya C.P. and Narendran K. to Philadelphia as our SAC On-Campus Artists in Residence. This initiative strives to bring South Indian artistic perspectives to the Penn and Philadelphia community. Krishnapriya and Narendran's work will be exhibited along-side that of the Seung Hyun, Danièle and Laura's work in a show at the Charles Addams Fine Arts Gallery called, "Migrate," from October 26- November 13, 2017. Krishnapriya and Narendran will give an artist talk about their work and audiences will have a chance to engage students about their residency experience at the opening night reception taking place at 5PM on Thursday, October 26, 2017. 
Krishnapriya and Narendran will continue their engagement on Penn's campus by participating in classroom talks and studio visits in Penn Design and the School of Arts and Sciences. Their work will transcend Penn's campus with K-12 classroom visits and a teacher training that will focus on cross-cultural exchange through arts education. Krishnapriya and Narendran will also bring Indian art to the Germantown section of Philadelphia when they create an original installation that will be installed at a local art gallery, called iMPeRFeCT Gallery, on December 2, 2017. Imperfect Gallery's mission is to make art accessible to diverse communities.
Visit our website to stay informed of future residency activities!