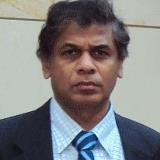 Lecturer in Tamil
820 Willliams Hall
By appointment
267-970-7698
215-573-2138
Bio
Vasu Renganathan has been teaching Tamil language and literature at the University of Pennsylvania since 1996. He earned his masters degree from the University of Washington, Seattle and Ph.D. degree in medieval Tamil language and literature from the University of Pennsylvania.  He also had another Ph.D. degree in linguistics from the Annamalai University, India.  He began his teaching career in 1989 and previously taught at the University of Michigan, Ann Arbor and the University of Washington, Seattle. In addition to teaching, he has also worked on various curriculum and instructional material development projects. Vasu also served as the Chairman of the International Forum For Informational Technology In Tamil (INFITT) and currently serving as one of the Executive Committee members of the South Asian Language Teachers Association (SALTA).  Vasu is also in the International Advisory Board member for the Electronic Journal of Foreign Language Teaching, (e-FLT), Singapore (http://e-flt.nus.edu.sg)
Research Interests
History of Tamil language and literature.
History of the Tamil Religious developments from medieval period.
Language of Sangam Tamil literature and Tamil inscriptions.
Teaching and learning of Tamil language.
Impact of Technology in the pedagogical methods.
Selected Publications
Renganathan, Vasu.  2014    "Being Kṛṣṇā's Gōpi:  Songs of Anṭāḷ, Ritual Practices and the Power Relations between God and Devotee in the Contemporary Tamil Nadu",  In Forum for World Literature Studies, Vol. 6, No. 4. December 2014, Pp.649-674.  Shangai  - Wuhan - West Lafayette: Central China Normal University and Purdu University.  (http://www.fwls.org).
Renganathan, Vasu. 2011   Tamil Language in Context: A comprehensive approach to learning Tamil. South Asia Studies, University of Pennsylvania.
Renganathan, Vasu. 2010. An English Dictionary of Tamil Verb (Associate Editor), Department of South Asia Studies University of Pennsylvania. Chief editor: Harold F. Schiffman.
Renganathan, Vasu. 2008 "Rupa, Arupa and Rupa-Arupa: The three forms of Siva worship at the Nataraja's temple of Chidambaram, South India and their impact on the temple architecture", In S. Agesthialingom, V.S. Arulraj, S. Chitraputran and A. Karthikeyan (eds.). Prof. S. V.Shanmugam's 75th Birthday Celebration Volume,  Annamalai University, India.